Regatta
Classic Channel Regatta (TBC)
6 July 2021 to 14 July 2021
Organised by:
Classic Channel Regatta
Location:
Dartmouth and France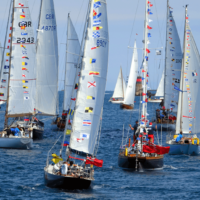 A unique week long international event with its own distinctive and varied blend of racing round the cans at Dartmouth, passage racing across the Channel, and racing round an island in Brittany – all with a lively and informal programme ashore which brings together a wonderful gathering of boats and crews.
The regatta is biennial and the next one in 2021 will run from July 6th to July 14 th – again starting in Dartmouth with two days of racing in Start Bay before racing to the Channel Islands and then on to Paimpol in Brittany where there was racing around the Île de Brêhat. The welcome and hospitality in Paimpol are now legendary and the grande finale will be part of the town's lively Juillet 14 (Bastille Day) celebrations.
For more information visit https://www.classic-channel-regatta.eu/
View more events