Where to find Dart Harbour's Offices
You will find Dart Harbour main office at 6 Oxford Street, Dartmouth, Devon, TQ6 9AL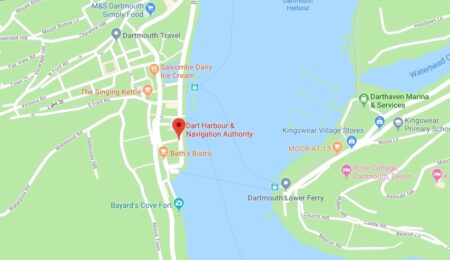 Dart Harbour Opening Times
Coronavirus Revised Opening Times
Dart Harbour has taken the decision to amend our service, from the usual level, as advertised in our Harbour Guide. This is to reduce the risk of transmission of Covid-19 to protect harbour staff, river users and the wider community.   A reduced number of staff will deliver the following service:
River Patrol – 0900-1700 daily. From 04 July 0730 – 2100
Office – 0900-1700 daily (1000-1600 weekends and Bank Holidays), no visitors to the office, please use telephone 01803 832337 or email [email protected] to contact office staff.
Taxi – Service running between 0900 – 1830 (from 04 July 0815 – 2030) by advance booking through the office  (face coverings to be worn, and no cash taken – concession tickets can be purchased over the phone or in response to an email).
VHF CH 11 – Dart Nav will only be monitored between 0900-1700 (from 04 July 0730 – 2100), if you have an urgent, safety critical need to contact Dart Harbour, outside these times, please call the Duty Harbour Master on 07968 839846.
Scrubbing Grids – Dartmouth and Hoodown grids may be booked, but any bookings will be subject to Dart Harbour staff limitations.
Normal Office Hours
Office Summer Hours – 28 March 2020 to 20 September 2020
Monday to Friday 0900 – 1700 hrs
Saturday, Sunday and Bank Holidays 1000 – 1600 hrs
Office Winter Hours – 21 September 2020 to 19 March 2021
Monday to Thursday 0900 – 1700 hrs
Friday 0900 – 1600 hrs
The Office is closed at weekends
Normal River Hours
Summer Hours – see revised opening times above
Harbour Patrol Spring/Autumn – April and October
Daily 0800 – 1900 hrs (TBC)
Harbour Patrol Winter Hours – November to March
Monday to Friday 0830 – 1630 hrs
Saturday and Sunday 1000 – 1600 hrs
Christmas/New Year Office Opening Times 2021 (TBC)
Thurs 24th December  –  0900 – 1200
 Christmas Day  – Closed
28th December – Closed (for Boxing Day)
29th, 30th and 31st December  – 1000 – 1200
New Year's Day – Closed
4th January onwards normal winter opening