Personal Watercraft and Interim Harbour Master
Navigation – Paddleboards and Canoes
This season has seen an increase in the use of paddleboards and canoes/kayaks on the river. This has caused some safety concerns for those using personal watercraft and the masters of larger vessels using the river. In particular, in the vicinity of the two car ferries, where groups of paddleboards or kayaks have had near misses. Paddleboarders and canoeists should ensure that they give large vessels and ferries a wide berth when near to their areas of operation. The Kingswear Castle paddle steamer has limited manoeuvrability, as do the two car ferries in Dartmouth. All masters of other vessels should keep a good lookout for paddleboards or canoes and take extra care when manoeuvring out from the shore.
Mooring to a Trot Berth
We are delighted to announce that a very useful video has been published with the support of one of our berth holders. The video gives good advice and guidance on the use of trot moorings. To view this video please see https://youtu.be/Px8oQXvMV1U. Many thanks to Graham Keating for his help, especially the animated section!
Interim Harbour Master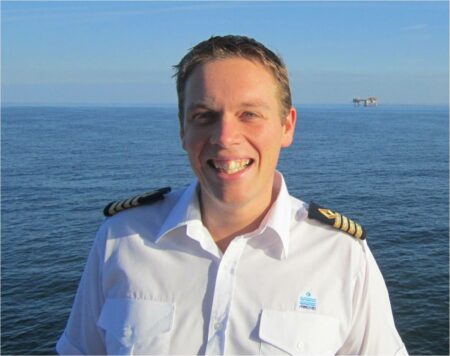 Capt Rich Eggleton has been involved with Dart Harbour for many years. Originally appointed to the Board in October 2013, Richard completed his term in December 2017. He spent a period as a co-opted board member for his pilotage experience and was appointed to the Board, once again as a full member in 2018 before standing down during 2020. Rich is also the Senior Pilot for the River Dart, having spent many years now operating as a Pilot in the area. He will be standing in as Interim Harbour Master in the period before a new CEO/HM is recruited and will help the new incumbent to settle into the post.
Rich's seagoing career started In 1999 when he joined the Merchant Navy working in the Offshore Oil & Gas Industry in the North Sea. This led to him becoming 2nd in command at the age of 21. In 2005 he moved into Sail Training, becoming Chief Officer on board, the Tall Ship Youth Trust's Sail Training Vessel's, "Prince William" and "Stavros S Niarchos", travelling the world and regularly visiting Dartmouth. It was in Dartmouth that he met his wife during a voyage to Britannia Royal Naval College.
Rich spent 20 years at sea with the last 9 as Master, serving on various vessels including Offshore Oil & Renewable Industry Vessels, Sail Training Vessels and as Master of the Trinity House Vessel "Patricia". In Oct 2019 Rich made the move to a shore position as now works a Pilot for Cattewater Harbour Authority in Plymouth.
In his spare time, Rich is also part of the RNLI Dart Lifeboat crew. He is also an Associate Fellow of the Nautical Institute.
View more news