DEFRA – Share your views on sea bass
The Department for Environment, Food & Rural Affairs (DEFRA) will be publishing a new Fisheries Management Plan (FMP) for sea bass. DEFRA would like this new FMP to be designed together by people from across different interest groups. They have commissioned Policy Lab who are experienced in developing and implementing 'co-design' projects to help in the creation of the FMP.
Policy Lab will be conducting co-design workshops in which people from across the sea bass system (recreational fishers, commercial fishers, charter vessels, research/science, seafood buyers etc.) will have an opportunity to contribute their views and make proposals on how the FMP should look. Policy Lab will take away the insights gathered and explore potential solutions. These will be shared with the attendees for them provide feedback during a 'co-refine' workshop.
The FMP itself will be produced by DEFRA and is expected to be delivered in 2023.
The next Policy Lab face-to-face workshop is in Plymouth on October 17 2022, a venue is TBC.
If you are unable to attend the Plymouth workshop, there are virtual workshops on 24, 25 and 26 October 2022.
To get involved either scan the QR code on the poster to complete the form or email [email protected] and tell them a bit about who you are and the nature of your interest in sea bass.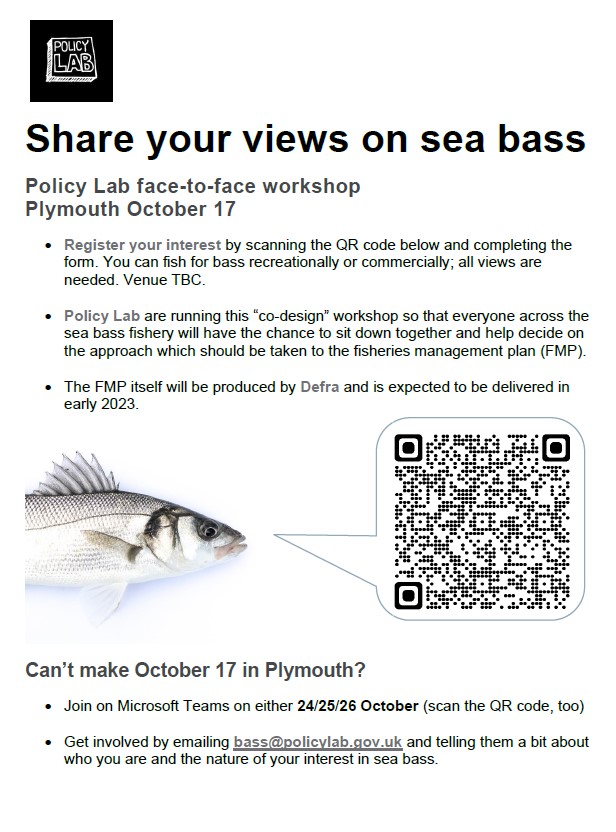 View more news