New KP Fisherman's Pontoon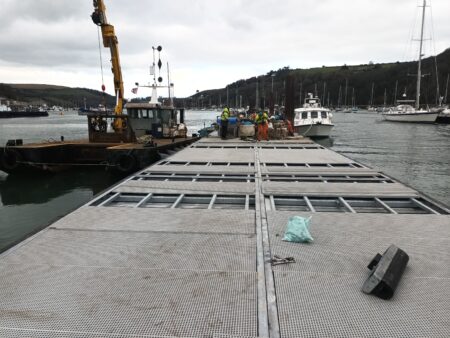 You may have seen Hercules towing some very large new pontoons down river today. This marks the final phase in the half-million pound investment in the local fishing industry being made by Dart Harbour. Over the next week or two we will complete the installation of the new KP pontoon, which will give a much improved working platform for our fishing fleet.
The new pontoons have been built by our partners Inland & Coastal, to a similar design as Town Jetty.  From a distance they may look like any other pontoon, but up close they are huge.  The 6 metre wide deck gives much more working and storage space, and the new design is more solid and robust – fit for thirty years or more service.
As always, our workhorse barge Hercules is doing the brunt of the work – towing the pontoons down from their launch site at Noss and gently easing them onto their piles.  Our team are then working with the Inland and Coastal Engineers to do the minute adjustments to make sure everything fits perfectly.  Then we just need to fit the electrical and water services and the fleet will be able to return.
We see this investment in the local fishing industry as vital for the economy of the town, helping to ensure that these jobs and skills remain in the town, and helping Dartmouth maintain its place as a significant working port.
View more news