LNTM 22 2018 – Plymouth University Temporary Marks
Plymouth University Temporary Marks
Effective until further notice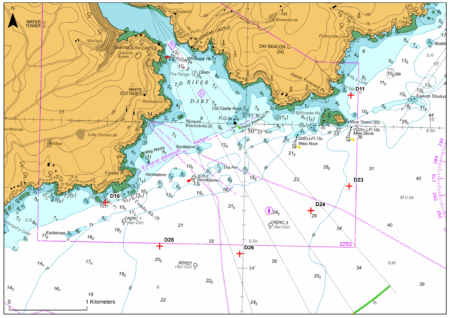 All mariners are advised that a series of temporary marks have been located in the approaches to Dartmouth Harbour at the following positions (see also attached copy of chart):
Mark D11 50 20.215N 003 31.869W
Mark D18 50 19.437N 003 34.503W
Mark D23 50 19.584N 003 31.869W
Mark D24 50 19.444N 003 32.242W
Mark D26 50 19.099N 003 33.039W
Mark D28 50 19.140N 003 33.907W
These marks are identifiable as small red inflatable mooring buoys (approx.150cm in diameter). They are all lit at night by way of an all-round white "W" LED light with a flashing "Fl" character of 10-12 flashes per minute.
Mariners are advised to stay clear of these marks and not use them for mooring purposes.
Please contact the harbour office if you require any further information.
Nick Clarance
Deputy Harbour Master
Issue date: 16 June 2018
View more port notices