LNTM 16/2019 Regatta Fireworks Display
Effective until 02 September 2019
As part of the regatta celebrations, a mid-river fireworks display organised by Pains Fireworks Ltd will be held in the vicinity of the charted area below. Lasting approximately 20 minutes. Details are as follows:
Saturday 31 August 2019 at 2100hrs.
The exact location of the fireworks barge will be decided on the day by the organiser, dependent on weather conditions and prevailing wind direct/strength.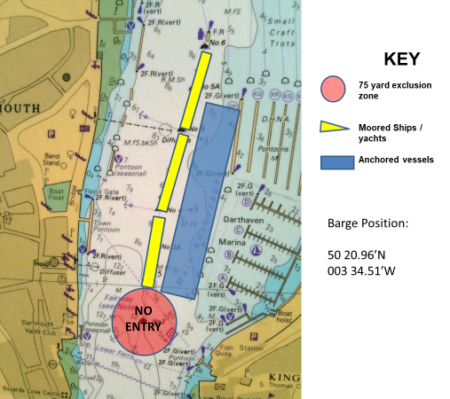 Exclusion Zone:  75 yards around this barge.
Vessels underway are not to enter the circular exclusion zone marked 'no entry' between 2050 and 2130 on Saturday 31 August 2019.
Town Jetty will be closed, with no transit access to the public between 2050 and 2130 on Saturday 31 August 2019.  Occupants of vessels on Town Jetty are to remain clear of the Town Jetty or to remain on board their vessels, and obey any directions by harbour staff.
Ferry services from Town Jetty and the 'double steps' pontoon will be suspended for the duration of this display.
Disclaimer. Mariners using Dart Harbour facilities in the vicinity of firework displays do so at entirely their own risk.  Dart Harbour accepts no responsibility for damage or injury caused to persons, vessels or property as a result of firework displays.
View more port notices