LNTM 17/2019 Review of Classic Craft
Annual Review of Classic Craft – Sat 31 August 2019
The event begins with vessel gathering above the Higher Ferry from 1400 on Saturday 31 August 19 with the procession heading downriver from 1430. The classic craft will proceed downriver on the Dartmouth side close to the embankment. Some craft will be under sail but all vessels will have propelling machinery operating.  The procession will conclude with the Steam Boat Rally.
There will be a commentary describing the participating vessels, broadcast over the regatta PA system, from 1430. The commentator will be stationed halfway down the course at the Town Jetty.  Once vessels have reached the Dartmouth Yacht Club pontoon (Regatta finish line) they will disperse.
International regulations for the prevention of collision at sea are to be followed throughout. All vessels that are not taking part in the procession are requested to keep clear of the procession. Communications for entrants and coordination purposes will be on VHF channel 12. Dart Harbour ( callsign "DartNav") will remain on channel 11 throughout.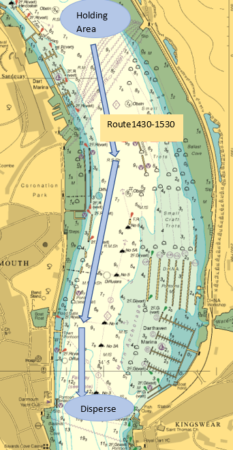 View more port notices