LNTM 22-23 New Double Steps Pontoon – 19th – 27thJune 2023
All mariners are advised:
New pontoon
The new Double Steps pontoon will be installed during the week of Monday the 19th June – Tuesday 27th June.
This pontoon will increase the amount of dinghy space, be able to facilitate small day boats and RIBs up to 6m, and include a 20 minute short stay berth for small yachts and motorboats (image below). This pontoon will also enable small passenger boats to operate from the same pontoon during all states of tide.  The new pontoon will also allow more space to manoeuvre boats in this area.
The outside of this pontoon will work in a similar way to the Town Jetty, with overnight visitor space available from 17:00 – 08:45.
Navigation aids
The current DC Pontoon and Aid to Navigation 2 Fixed Red (vertical) location 50° 21′.125N 003° 34′.566W will be replaced with trot moorings and light permanently extinguished.
The new double steps pontoon will have Navigation Aids (2 Fixed Red (Vertical)) placed in the locations 50 21.127N 003 34.605W and 50 21.110N 003 34.620W at the north and south ends of the pontoon.
During the works
The works may cause disruption, but where possible we have provided alternate berthing arrangements. 
SHDC licensed 12 seater craft
Dart Harbour will ensure space is reserved for 12 seater craft (eg Yacht Taxi, Dittisham Ferries, Fizz boat, Banquet boat etc), on the Town Jetty inside, northern end, where the Harbourmaster patrol RIBs are normally berthed.
Dartmouth Hire boats
The Dartmouth Hire boats should not be affected during these works.
Tenders
All vessels are requested to vacate the double steps pontoon by the morning of Monday the 19th June. An extension will be added to the Green Pontoon further along the north embankment for the duration of the works to ensure adequate space.  Note that padlocks may be cut if boats are locked to the pontoon.
Dinghies and tenders should not use double steps pontoon during this period, this includes no overnight berthing.  
Landing
No landing at Double Steps Pontoon during this period.  Please use the landing facilities at the Green Pontoon, Dartmouth Dinghy Rack off Coronation Park, or at the Yacht Club Pontoon instead.
No Berthing signs
Towards the end of the week, the pontoon works may look complete, however please respect the no berthing signs. The pontoon and or decking may not be fully secured in areas. Once the works are complete the no berthing signs will be removed and this local notice withdrawn.
For more info, please contact the office on 01803 832337 during office hours or email [email protected]
Jack Handley
Assistant HM – Compliance.
Issued 15/06/2023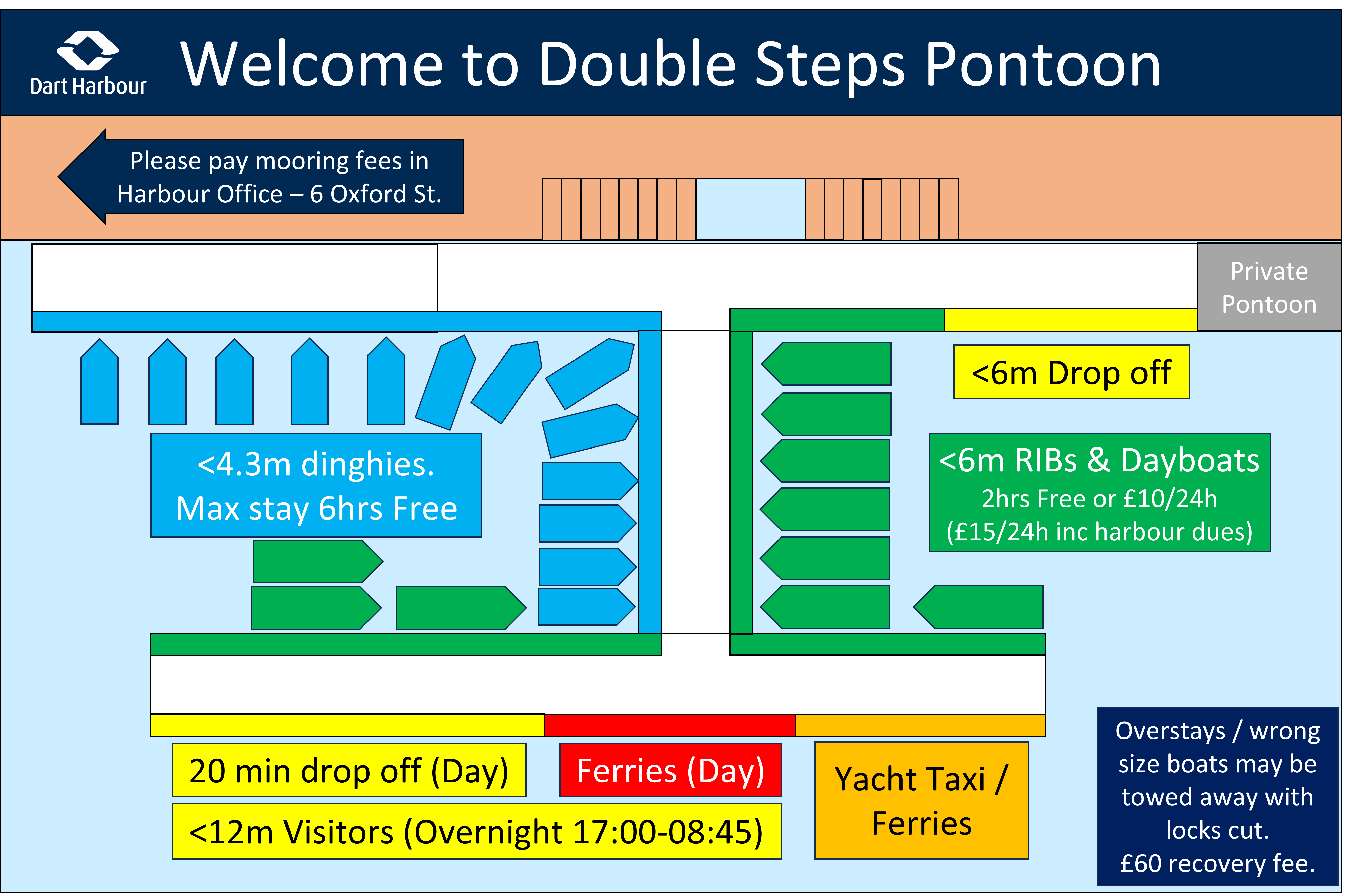 View more port notices